Mini Cooper Auto Repair in St Charles Area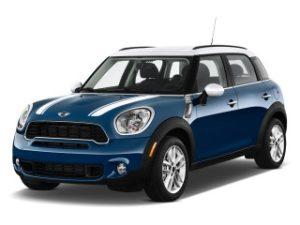 The Mini Cooper may have been previously been known as the ultimate city car, but recently released new models like the Countryman and Paceman have literally and figuratively extended Mini's range. Combined with the classic Mini Hatch, Clubman, and Coupe, it makes perfect sense that more and more St. Charles drivers are choosing the Mini for their next purchase. At the same time, specialized mechanics for Minis are not keeping up with demand for the cars. Rx Automotive serves the entire St. Charles area, including Batavia and Campton Hills, and has the ability to complete any Mini service or repair job.
Choosing a Mini shouldn't mean that you're forced into high-priced bills for routine maintenance like a tune up or air conditioning service at the dealership. At Rx Automotive, our prices are fair and we're proud of our clear pricing system. All of the services we provide to Mini owners are listed with their respective charges and you'll never find hidden charges when it comes time to pay. In addition, you'll quickly notice that our prices are competitive (often cheaper) than what you'll find in other St. Charles automotive service shops.
While price is often a motivating factor, the real question for Mini drivers is who they trust to work on their Cooper S, One, or Cooper Works. The talented team at Rx Automotive is extremely well-versed with Mini culture and our technicians have serviced models from Wayne, Geneva, and nearly every location within the St. Charles area.
Their technical knowledge translates to a perfect repair every time you bring your vehicle in for a service. In addition to standard preventive maintenance, we're also ready to handle full repairs as well, from a grinding transmission to engine cooling system and all points in between. When your Mini breaks down, we'll have you back on the road and ready to go as quickly as possible.
To keep your Mini running in tip-top shape, Rx Automotive recommends following the scheduled maintenance found in your owner's manual for standard oil changes and tune-ups. To assist drivers with making sure that they remember to change the oil, we're able to keep electronic records of your Mini's service history and provide reminders when another service may be coming due. Preventive maintenance greatly extends your car's life and has the added benefit of giving one of our technicians the opportunity to spot a small problem that could have bigger consequences if left unattended.
For a Mini that runs just as well as when you first drove it off the lot, bring it to the Rx Automotive facility in St. Charles – you're in good hands with a talented team of professionals that will give your car the respect and care that it deserves. Call us to set up an appointment or just stop by our shop and one of our friendly associates will find a convenient time and date for your service.
ONLINE AUTO REPAIR QUOTES
Save time and money. If you know what your car needs, just let us know a few details and we will put a quote together for you. And…don't forget that most repairs are backed by the NAPA Peace of Mind Nationwide Warranty.