Jeep Auto Repair in St Charles Area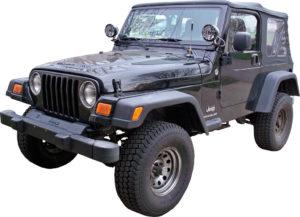 Are the brake pads on your Wrangler getting worn down or the transmission in your Cherokee starting to slip? Whatever the issue, Rx Automotive is here to help with all your Jeep auto repair needs. Servicing the greater St. Charles, Geneva and Campton Hills area we know that the weather and driving conditions here can cause your Jeep plenty of problems – if you've made it here, then you probably have one. However, there is an easy solution – let our experienced team handle your Jeep repair and get you safely back on the road.
In St. Charles, Geneva, Campton Hills, Batavia, and Wayne, there are countless auto repair shops, but only Rx Automotive provides the level of service you deserve. Staffed by professionals that have detailed knowledge of Grand Cherokees, Renegades, and all other Jeep models, we'll offer you our expert opinion and an honest price before we start working. You'll never come across any "hidden" charges and all of the repairs done at our St. Charles facility are backed by a guarantee. We treat your Jeep as if it were our own.
From routine Jeep Liberty maintenance to complicated Compass repairs or upgrades, St. Charles Rx Automotive has most likely seen it before and knows exactly what to do. In addition, we stay completely up-to-date on all of the latest recalls, which means that whenever you bring your Jeep in, we'll check to make sure that there's not any fixes that you may have overlooked.
Part of being the best auto repair shop in the St. Charles area is being proactive and looking to the future. Our goal is to keep your Jeep running great for years to come, not just focusing on a quick patch job that will need to be repaired again in only a short time.
Transmission problems with your Patriot or a leaky rear main seal on your Cherokee? If you already know what's wrong, then you can look at our prices online to see how much the repair will cost. If you don't see exactly the repair you need, then feel free to contact us and we'll be happy to give you an estimate over the phone or through email.
In our time as one of the leading St. Charles Jeep auto repair shops, what we've learned is that upfront pricing is the only way to go. Our customers trust us to get the job done right at a reasonable price. It's that principle that has kept us in business for all these years. When you choose Rx Automotive, you can rest assured that your Jeep will be taken care of.
ONLINE AUTO REPAIR QUOTES
Save time and money. If you know what your car needs, just let us know a few details and we will put a quote together for you. And…don't forget that most repairs are backed by the NAPA Peace of Mind Nationwide Warranty.