Infiniti Auto Repair in St Charles Area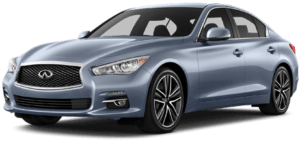 Infiniti may be one of the newer manufacturers on the St. Charles market, but it has gained traction quickly, with the Q50, QX80, and convertible M30 becoming a common sight on local roads. Because Infiniti models were only introduced in 1989, many repair shops have avoided dealing with these vehicles, but Rx Automotive is one of the few exceptions. Understanding the quality of these cars, we've made it a point to become veritable Infiniti experts and have built a reputation as one of the best local solutions not only for St. Charles, but also for surrounding towns like Batavia, Geneva, Campton Hills, and Wayne.
Whether you prefer the sporty Q60 or more classic Q70 sedan, you can count on Rx Automotive to provide all the repairs and maintenance needed to keep your Infiniti running at peak performance. While we do recommend that local drivers practice preventative maintenance such as regular oil changes, tire rotation, and tune-ups and can easily deliver those services, we're also available for more difficult repairs, like cooling system cleaning or handling issues on your fuel injection system. With each service completed by Rx Automotive, your Infiniti will be back on the road in a jiffy and running like brand new.
We know that many local Infiniti drivers try to avoid service visits like the plague, but we've worked hard to ensure that your maintenance or repair experience with us will be not only painless, but enjoyable. All of our associates have excellent customer service skills and we'll put you in direct contact with the mechanic taking care of your car to explain exactly what is being done and why. Add in a clean and professional facility and you'll never look at auto repair in St. Charles in the same way.
One of the reasons that Infiniti service visits have a negative reputation is because of the high prices charged by dealerships for what should be a simple fix or routine maintenance job. As an independent and St. Charles auto repair shop, our primary goal is taking care of our local community and customers. That means when you come to us, you'll be treated well, including the prices we charge. Coming in at far less than an Infiniti dealership and staying competitive with any other shop in town, we'll offer friendly prices that won't break the bank.
Get rid of the auto repair blues by visiting Rx Automotive in St. Charles and see what top quality service and professional ability is all about.
ONLINE AUTO REPAIR QUOTES
Save time and money. If you know what your car needs, just let us know a few details and we will put a quote together for you. And…don't forget that most repairs are backed by the NAPA Peace of Mind Nationwide Warranty.