Cadillac Auto Repair in St Charles Area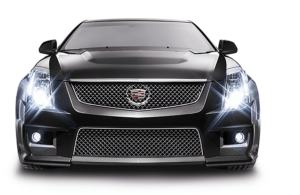 From the Escalade to classic DeVille models, no name exemplifies American luxury vehicles like Cadillac. With a storied history that dates back more than 100 years, the manufacturer has been a true hit with St. Charles drivers that want the best in American craftsmanship. At the same time, the extended longevity of Cadillac models like the CT6, ELR, and Eldorado means that having a qualified local mechanic is of high importance. Fortunately, Rx Automotive is exactly that – an expert Cadillac repair team whose services extend from our St. Charles facility to Campton Hills, Batavia, and beyond.
The backbone of the work that Rx Automotive completes for our Cadillac clients is based on ability, pure and simple. Starting with technicians that have worked on countless Cadillac models over the years, our body of repair knowledge is second to none in the local St. Charles area. Whether it's a poorly functioning exhaust, engine issues, or routine maintenance, we have the know-how to execute the job perfectly.
While our ability is impressive, the other side of the coin is that we've outfitted our local shop with all the right equipment to make sure your repair is completed well and quickly. Using advanced diagnostics tools, our team will first assess the problem at hand to find the underlying issue.
Other St. Charles automotive repair shops may just apply a temporary patch, but Rx Automotive understands that quality repair involves taking care of the actual problem so it doesn't appear again. At our impressive shop, we'll take all the steps necessary to correctly identify the issue and then make it a thing of the past. Our ability and shop are definitely top level, but that doesn't mean you'll have to pay astronomical prices at Rx Automotive.
Because we value long-term relationships that often last for decades, we offer competitive rates for all the work we do, from simple oil changes to complicated transmission rebuilds. Feel free to compare us to others and you'll soon see the value inherent in our affordable prices.
Although we're based in St. Charles, our customers come from all around the local area, including Wayne and Geneva. Drivers that want quality work know to choose us and we've built up a client list of Cadillac owners that appreciate our unique approach to taking care of your car. Setting up a repair or maintenance appointment is as easy as giving us a call. A friendly Rx Automotive associate will help find a convenient time to bring your SRX Crossover, ATS-V, or XTS to our shop. Call us today!
ONLINE AUTO REPAIR QUOTES
Save time and money. If you know what your car needs, just let us know a few details and we will put a quote together for you. And…don't forget that most repairs are backed by the NAPA Peace of Mind Nationwide Warranty.