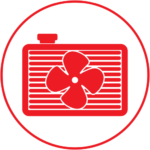 A perfectly-functioning radiator keeps your engine running smoothly. However, when radiator problems start, they need to be fixed right away. A damaged radiator can not only cause performance issues, but can even do permanent damage if not caught in time. Stop by Rx Automotive in St. Charles and we'll do a full inspection to make sure your car or truck's radiator is working perfectly.
TOP RADIATOR & FLUSH REPAIRS
St Charles Top Radiator Repairs
Full Radiator Replacement
Coolant System Flush
Adding or Draining Coolant
Radiator Cap Replacement
Radiator Rod-Out & Repair
Leak Repair
Radiator Re-Core
Cooling System Checkup
RADIATOR WARNING SIGNS
St Charles Top Radiator Warnings
Overheating Engine
Low Coolant Levels
Water Pump Damage
Leaking Coolant
Off-Color Coolant
Coolant With Debris
ONLINE AUTO REPAIR QUOTES
Save time and money. If you know what your car needs, just let us know a few details and we will put a quote together for you. And…don't forget that most repairs are backed by the NAPA Peace of Mind Nationwide Warranty.