by
Les Rx
How to Change the Oil in Your Car
Sharing is caring!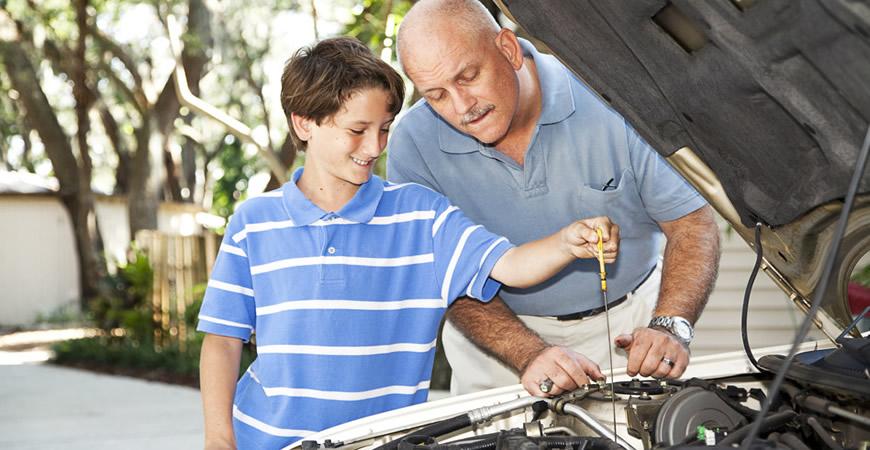 "I alone cannot change the world, but I can cast a stone across the waters to create many ripples."
― Mother Teresa

However many ripples you manage to make in your life, one thing you can easily learn to change is your oil. This easy lesson can be an excellent time and money saver.
First step: Determine how often you need to change your oil. For the most certain and trustworthy answer, consult your service manual. Or, if necessary, an authoritative reference work, such as Edmunds', will help you know what is the best oil change schedule for your specific vehicle. Some modern vehicles possess oil life monitoring systems which are also trustworthy, accurate, and well worth your time to become familiar with.
Next up, Gather your tools and supplies. You will need:
A floor jack or car ramp

. Possibly you do not need to elevate the front of your car, but it will certainly make your job a lot easier. Car ramps can be bought cheap at your local auto repair parts store. If you use a jack, be extra cautious and positive it is properly positioned and supporting the weight of the car.

Replacement oil filter

. Refer to your manual, if you're not sure what size you need.

Replacement oil

. Again refer to your manual to see how many quarts you need. Most cars take 4 or 5 quarts to refill.

Oil pan

. To catch the used oil. You can buy a jazzy new oil pan, or you can save money by using basically anything handy. Grab an old plastic bucket or that old paint can you've been saving for some reason.

Socket set

. Different sizes are needed for different vehicles, but a 3/8" set is common for oil changes. You will use it to loosen the drain plug.

Oil filter wrench

. If you can't unscrew the filter by hand, use this tool to loosen it, and to tighten the replacement.

Funnel

. Makes pouring in the new oil much easier.

Extras

(cleaning supplies to make your life easier). Rags, rubber gloves, containers (consider saving a few old milk cartons) and cat litter, sand, or other sopping agent to help with any oil you failed to catch.
In the simplest terms: you are going to drain your used oil, remove the filter, replace with the new filter and pour in your new oil. Easy.
To drain your used oil, start by warming up your engine. You want to lube up the whole system and really get the oil flowing. So consider driving around the neighborhood a few times, rather than just letting your engine run for a few minutes. Absolutely no need to race around though. Warming your oil is the temperature you're going for.
To be safe and efficient, park on a completely flat and level area. Pavement is always good. Use that parking brake. Let someone know what you're doing if you don't already have a buddy on hand. Set braces behind the rear wheels.
Now to get dirty, heh. Or to get your rubber gloves dirty. Your oil has cooled some and is warm, but not hot. Pop your hood and remove your oil cap to speed up the drainage. Locate your oil-drain plug. It's often at the bottom rear of the engine's oil pan. Some newer vehicles have an under-shield you will have to remove to get to it. Try your socket wrench to get it loose, but don't unscrew it all the way. Slide your oil pan or substitute under the hole (but be aware the oil will not dribble straight down, but will stream out at an angle in the direction the hole faces). Keep a firm grasp as you unscrew the bolt, so you don't have to get messy fishing it from the pan.
After a few minutes, the oil will be drained completely. Replace the drain plug firmly but do not over tighten and strip it. Now locate and remove the old oil filter. Hint: it's cylindrical and, duh, you have a new one, so you can compare the shape you're looking for. There will be spillage as you pop the seal free, so keep your pan and rags handy. Once you've removed the old one, you will want to wipe away the old oil, as well as to dab some new oil on the new filter seal to prime it. Tighten the new filter in place (one full turn by hand will likely be enough).
Now grab your funnel and add that spanking new oil. Start up the engine for thirty seconds and check under the vehicle for any leaks before you lower it. Check your dipstick to be sure your oil's at the proper levels, clean up any spillage, recycle that old oil properly, and treat yourself to something cold. Even Mother Teresa would be proud of you.
If you are repair-shy or simply too busy to change your own oil, join Rx Automotive's Oil Change Club and every fifth oil change is FREE! Includes up to five quarts of oil, replacement filter, fluid and tire pressure check, and lubrication of the chassis. No need to sign up or keep track of your oil changes – we do it for you! Check out this deal and other valuable auto repair coupons on our Auto Repair Promotions page! 
Latest Posts
by Sean Metzker
Demystifying the Mass Air Flow Sensor No, it's not a part from a rocket ship. And no, it's not from a DIY, at-home chemistry set. When...
by Sean Metzker
A Few Signs That Your Ignition Coil or Spark Plugs Need Replacing You're riding down the road in St. Charles when you feel it – a slight hiccup in your...